Pagur (Gepard x Pospa / Prikaz) *2007
---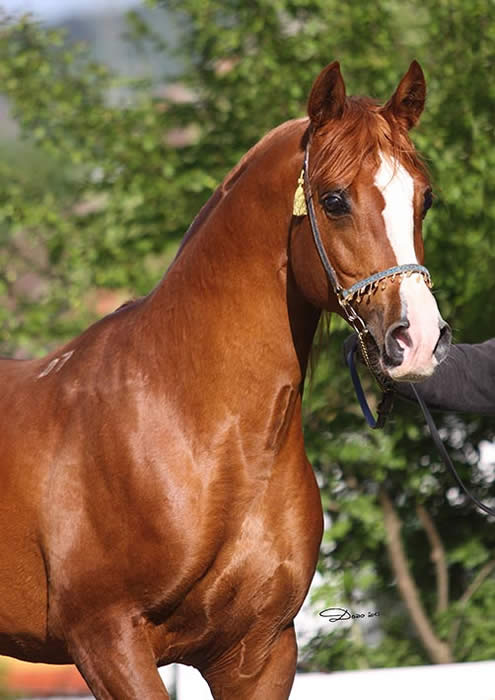 sire line: Koheilan I / Koheilan Adjuze d.b. 1876
dam line: Koalicja / Milordka Slawuta 1810
*** straight performance pedigree
*** perfect ridinghorse conformation & movements
*** confirmed at the strictest stallion licensings in Austria

SCID, CA, LFS free;
158 / 168 / 174 / 19,0 cm
licensed for the Austrian Warmblood / Sporthorse.
licensed for Shagya-, Anglo- & Partbred-Arabians
certified frozen semen available for EU / USA / AUS

performance test: raced 2 / 11 (2-0-3-2-1) Kazan, Moscow, Pyatigorsk RU
*top-ten* born 2007 in Russia

http://www.allbreedpedigree.com/ pagur2

Sire GEPARD (Naftlin x Prikhot), the Russian Racehorseproducer Number *1* 2010/11.
Dam POSPA (Prikaz x Premera), "Elite", dam of outstanding racehorses, sires and mares

breeder Khrenovoe Stud, RU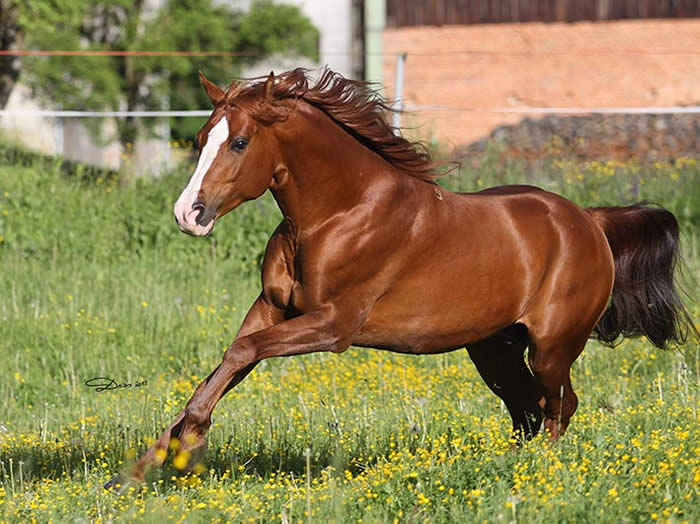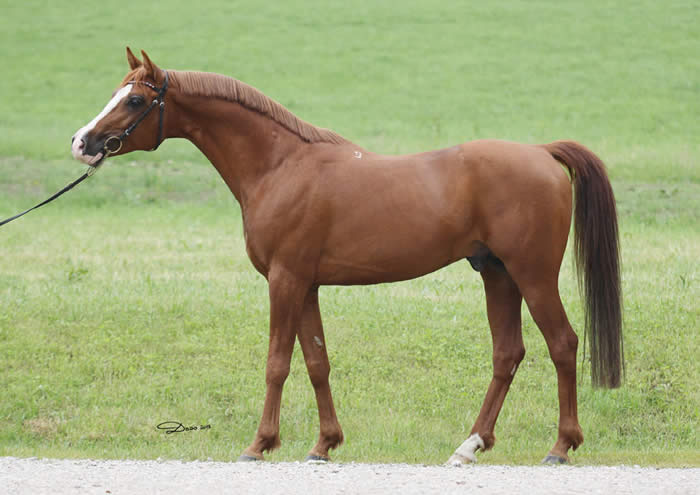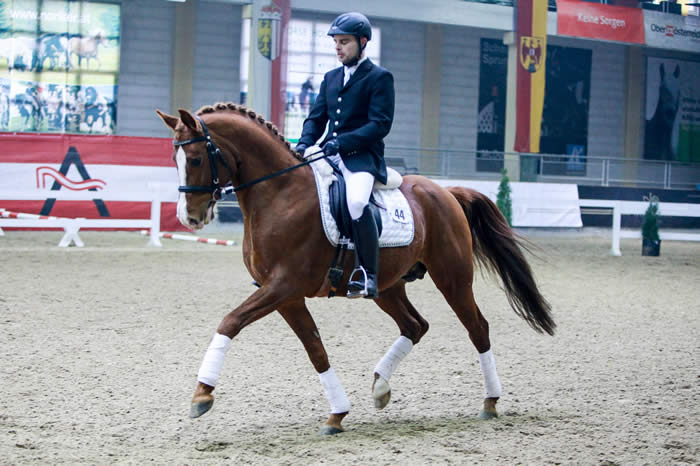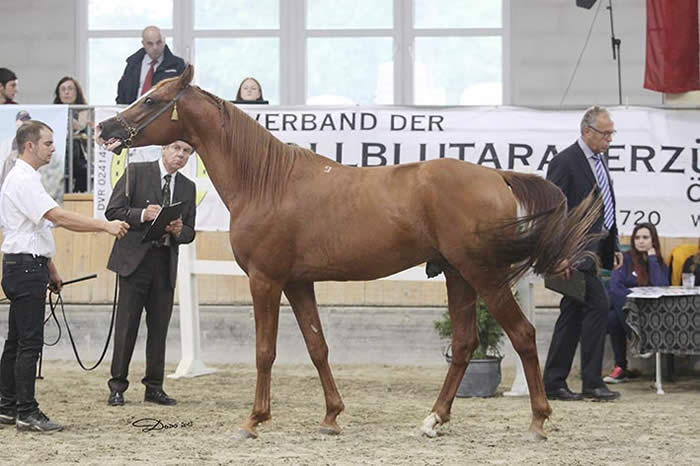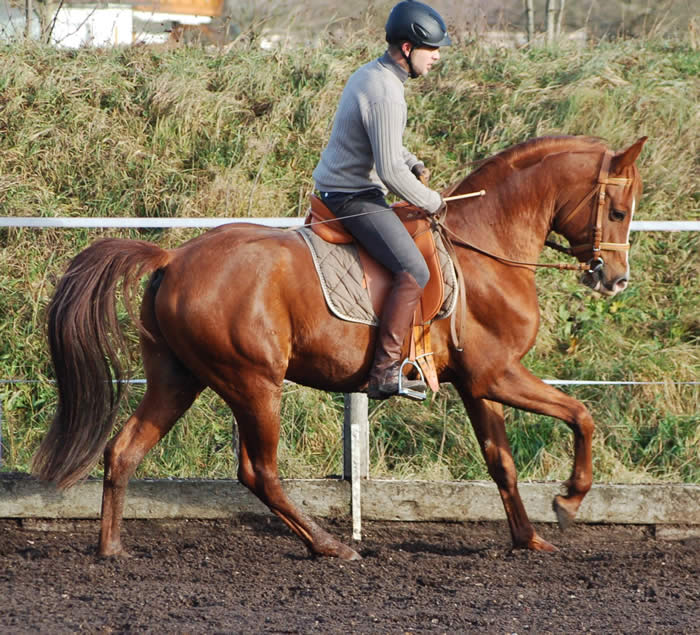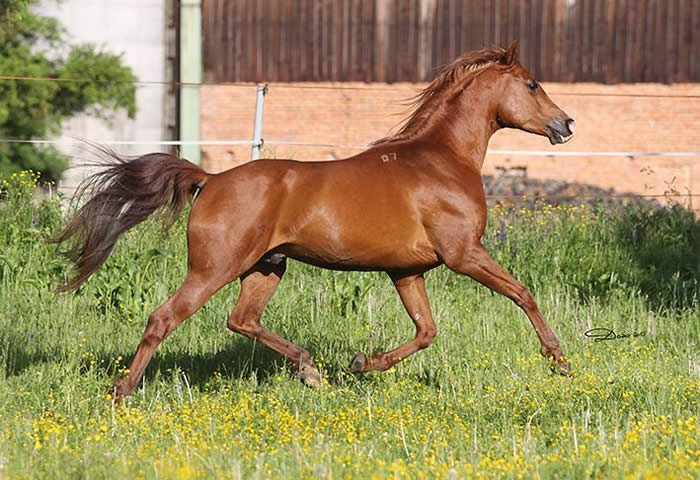 http://www.youtube.com/watch?v=fSp7RIbpp8M video (winter 2012/13)
Decktaxe / breeding fee:
Natursprung / natural breeding:
2016 in Deutschland / in Germany Gestüt Elchniederung
Trakehner mit Einzeldeckgenehmigung 800 €
TG-Samen / frozen semen certified EU / USA / CAN / AUS:
Vollblutaraber / Arabians: 1200 €
Warmblut / Warmblood, Trakehner: 800€
+ fees
Warmblut Körung / Stallion licensing Austrian Warmblood Feb. 2012 photo Petra Gmainer-Wiedemann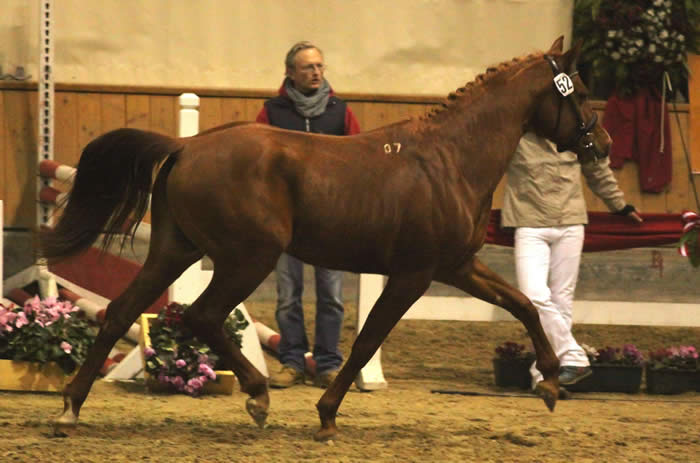 video Austrian Warmblood stallion licensing 2012: https://www.youtube.com/watch?v=cLIemD26Uas
Wasserlilie FM 2014, the arabian foal in the ***FINALE of the Austrian Warmblood Bundes-Championat***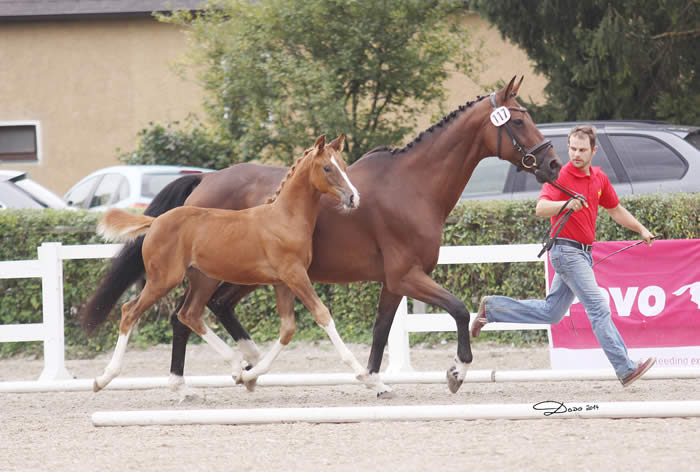 3 years old winter 2010/11: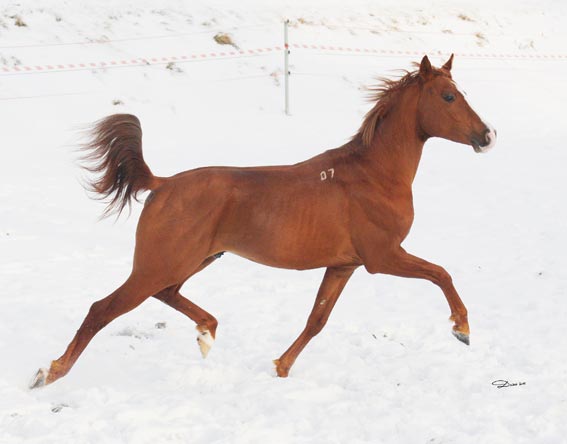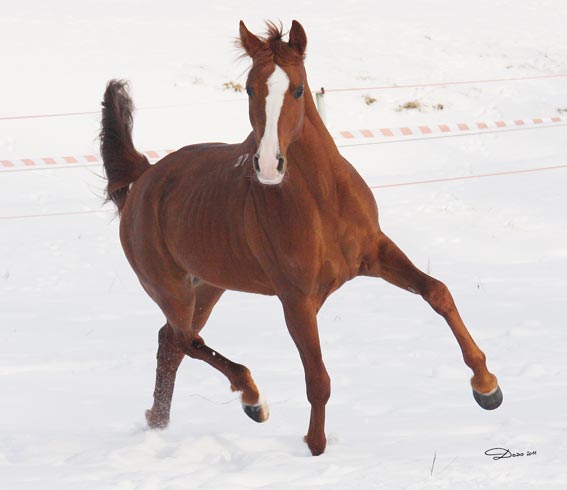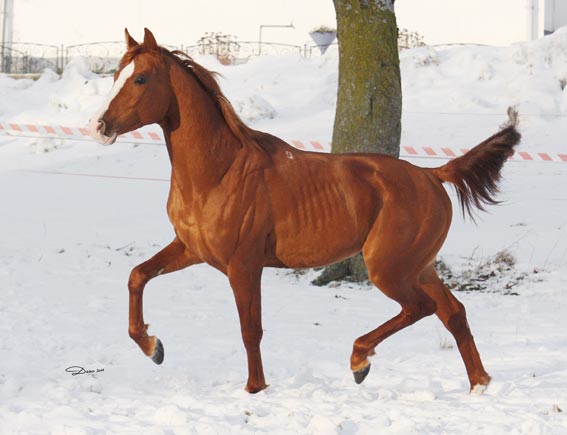 2- und 3jährig auf den Rennbahnen Kazan, Moskau und Pyatigorsk leistungsgeprüft.
Sieger "Abu Dhabi Cup" Moskau.
Durch die Linienzucht auf Koheilan I (Priboj, Sport, Topol, Pomeranets, Naftalin,...) und
Denouste / Latif (Korej, Kann, Kankan, Knippel,...)
ist der Hengst kompromisslos auf Leistung gezogen.
Die Linie Latif ist in der Distanzpferdezucht durch seinen Vertreter Persik
("le premier grand sire de l'endurance" bred by Tersk stud, RU 1969, exp. to France 1973) weltweit geschätzt.
Die in Russland gleichwertig einzuschätzende Linie Koheilan I findet sich 19x im Pedigree.
Diese Dichte findet man nur in der russischen Leistungszucht.
Sie ist möglich, da diese Linien ebenso Bestandteil der durchgezüchteten Stutenfamilien sind.
Pagur's direkte Vorfahren sind überragend.
Vater Gepard:
raced 3/23=5-6-4-3-5
ein Sohn des überragenden Rennpferdevererbers Naftalin, aus der "Wunderstute" Prikhot:
2/16=8-5-2
Winner of Russian Oaks, Russian Derby, was second in M.I. Kalinin and Gt Summer Prizes.
She set four speed records;
Prikhot still recordholder for 2yo in Russia on 1.200m - 1.20,1. for 3yo in Russia on 1.800m. – 1.58,6 and 2.000m – 2.13,0. for 4+yo on 1.800m - 2.00,6.
steht wie kein anderer für die Leistungszucht des Gestütes Khrenovoe.
Mutter Pospa ("Elite"):
raced 4=0-4-0
in 2014: 14 foals registered
Vollschwester des Hauptbeschälers Pripusk weist eine hervorragende Zuchtleistung auf.
Sie bringt Sieger am laufenden Band.
Shagya-, Anglo-, Partbred-Arabian stallion licensing. Stadl-Paura, Austria 2012.
horse with the highest score of the day: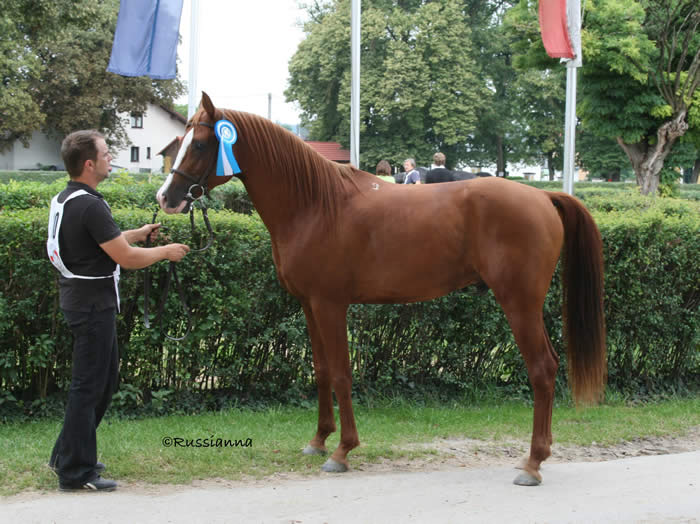 11.2.2012 Körung / Stallion Licensing Austrian Warmblood. Photo www.pferdeportal.at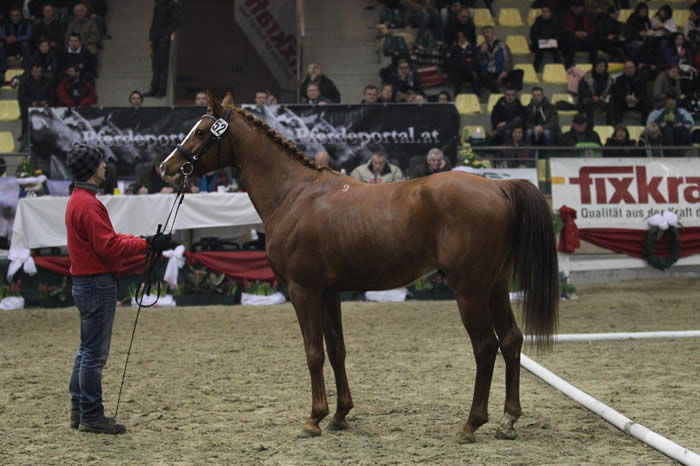 dam POSPA. Photo Alexia Khruscheva 2013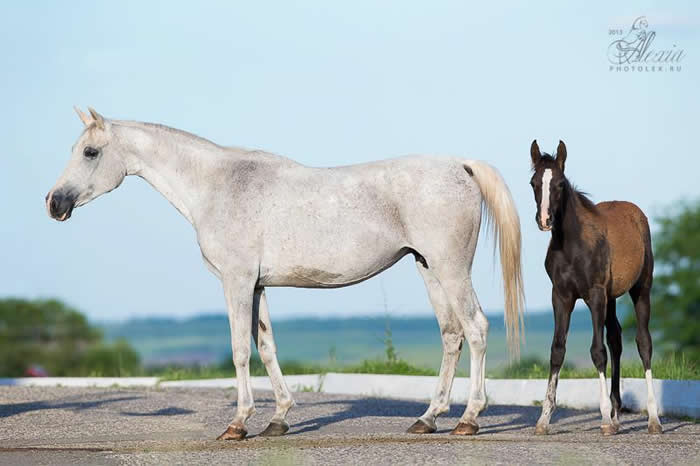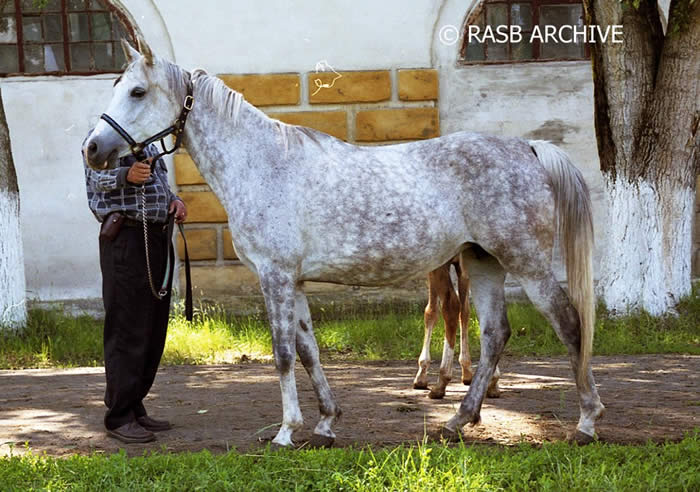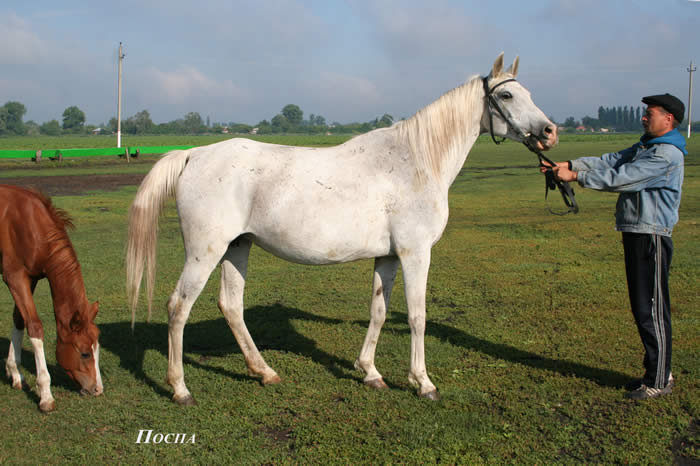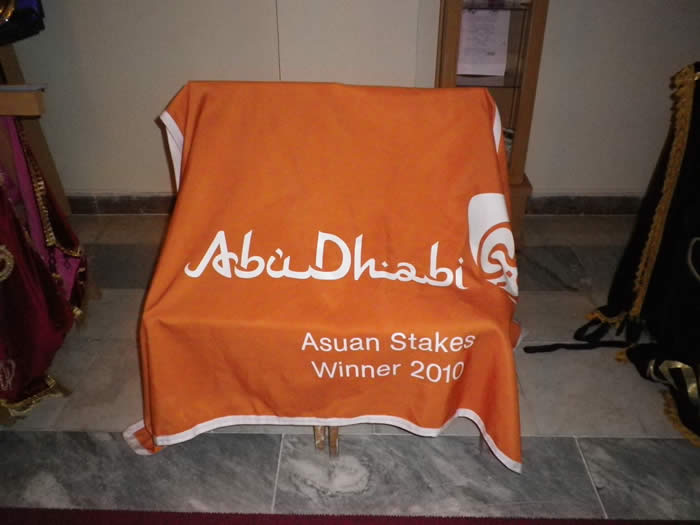 Pospa (Prikaz x Premera) fullsister of Pripusk (chief sire Khrenovoe Stud) dam of high performance horses:
Pingvin / Gepard, Pais / Anchar, Polonez / Gepard, Podacha / Dagmar, Piksida / Kai