GEPARD (NAFTALIN X PRIKHOT) RU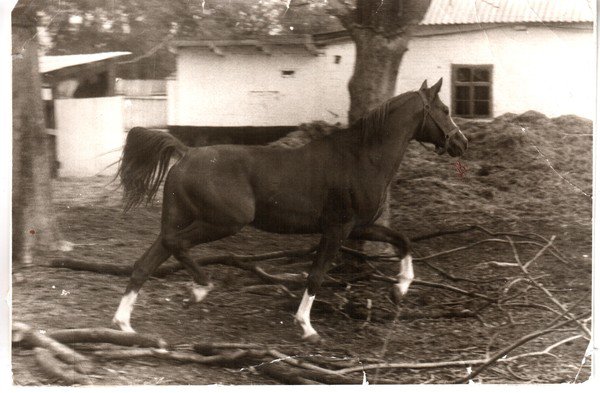 GEPARD (Naftalin x Prikhot) 1984 - 2010
could be named *the best Russian Arabian Racehorse Sire* of the last decades.
sire line Koheilan I / Koheilan Adjuze
dam line Rodania
http:// www.allbreedpedigree.com/ gepard5
152 / 20,0 cm, Elite: 10,8,9,8
raced 3/23=5-6-4-3-5
Aswan-free
out of PRIKHOT *the wonder mare*. Prikhot (Sport x Perikola), raced 2/16(8-5-2), winner of Russian Oaks, Russian Derby, 2nd M.I. Kalinin and Gt Summer Prizes,
she set four speed records and is still recordholder for 2yo in Russia on 1.200m - 1.20,1. for 3yo in Russia on 1.800m. – 1.58,6 and 2.000m – 2.13,0. for 4+yo on 1.800m - 2.00,6.
Gepard is by NAFTALIN (Topol x Nepriadwa), the racehorse sire of his time. raced 2yo 1/10 =2-1-3-0-4.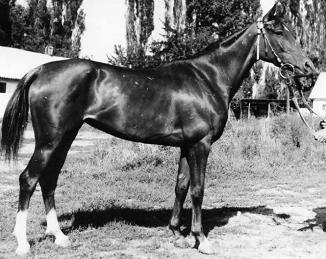 Prikhot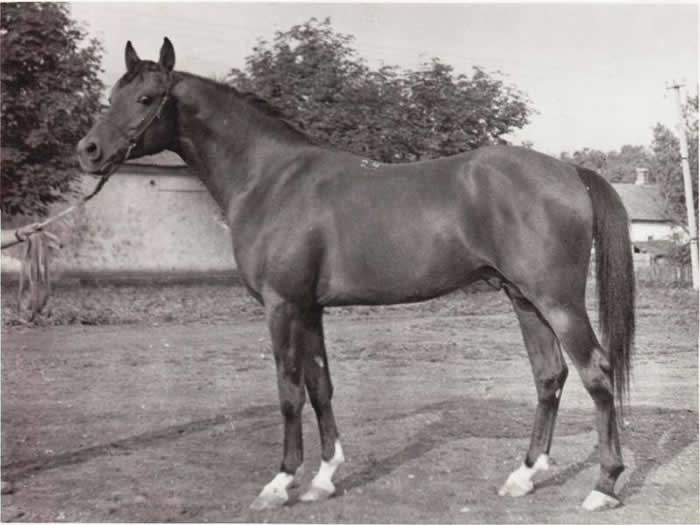 Naftalin

Gepard was used in the traditional Russian Arabian breeding program, where all horses have been performance tested on racetrack, from the beginning of flatraces in Russia till today. in former times at Tersk Stud (where they have also a halter horse section now) and continued at Khrenvoe Stud from the 1980s till 2012. Gepards offspring did never go through the international auctions and was not known outside Russia.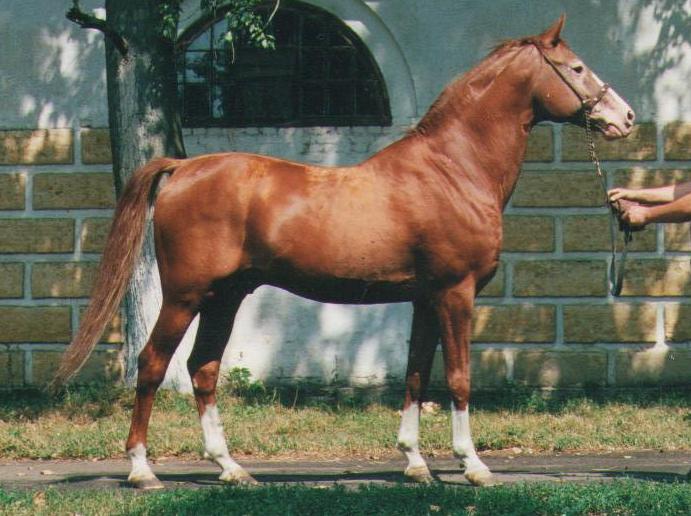 Gepard photocredit Gudrun Waiditschka 2003

Gepard was bred by Tersk Stud, where his fullbrother Parusnik was later used as a sire, after they have watched the success of Gepard at Khrenovoe Stud.
Gepard was chief sire at Khrenovoe Stud, 1996 - 2007. 63 offspring are registered and they made him to the *Russian Arabian Racehorse Sire Number 1* 2010/11.

DUGLAS (Gepard x Dikusha) 1997, raced 23 = 14-6-2-0 1st:Moscow Derby, Russian Cup 2000/02, Russ.President, Topol, Pesniar, Comparison, Closing;
2nd:Pyatigorsk Derby, Opening, Pesniar, Nagroda Bialki (PL). was chief sire at Khrenovoe Stud.

DRAGER (Gepard x Djimma) 2002, raced 5/31 = 8-10-5-2, 1st: Kazan Cup Gr.I (twice), Naseem Stakes Gr.I, Great Prize Moscow Gr.I, Tersk Stakes Gr.III, Closing Stakes Moscow Gr.III, 2nd: Moscow Derby (Gr I), Naseem Stakes Gr.I (twice), Comparison Stakes Gr.II, Aswan Stakes Gr. II, Opening Season Stakes Moscow Gr.III, Beresta Stakes Gr.III, Farewell Stakes Gr.III, 3rd: Abu Dhabi Stakes Moscow Gr. I, Great Summer Stakes Moscow (2000 Guineas) (Gr II), The Elite Stakes (Gr II), Opening of Season Stakes Gr.III. was chief sire at Khrenovoe Stud, sire in Austria.

BEG (Gepard x Baronessa) 2000, raced 15=5-4-1–0, sire at Volgateh-99 Stud, Samarskii Stud and Tersk Stud.

PAGUR (Gepard x Pospa) 2007, raced 2 / 11 = 2-0-3-2-1, sire in Austria (Arabians, Austrian Warmblood, Shagya-Arabians).

DOGMA (Gepard x Dacha) 2008, raced 2/ 9 = 1-2-3-1, 1st: Oaks, 2nd: Beresta, Gandikap, 3rd: Karinka, Taktika, Great Summer, 4th: Taraszcza. broodmare.

KANGERA (Gepard x Kazna) 2004, raced 6=1-1-0-3, 1st: Taktika Prize (Gr.II), 2nd: Karinka Prize (Gr.III), 4th: Open Racing season (Gr.III), 4th: Closing racing season (Gr.III), broodmare at Tersk Stud.

NERINGA (Gepard x Nesmeiana) 1998, raced 12=5-3-2-0, broodmare at Veles Stud.
and many more...